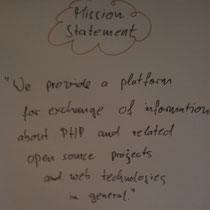 After one weekend of debate, we now know exactly what the goal of PHP Unconference Europe is:
To provide a platform that will enable the exchange of information about PHP and related web technologies and Open Source projects.

PHP Unconference Europe will be a communication platform for PHP enthusiasts from Europe and the rest of the world. It will be based on the well established concept of PHP Unconference Hamburg.
Keep an eye on this blog for details...