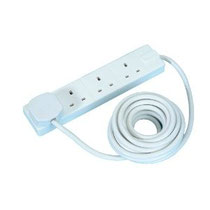 As all attendees of PHP Unconference Europe will be bringing and using their laptop, phones and other electronic gizmos at the event, there will be a shortage of power sockets. You can be sure of this!
Therefore, we kindly ask you to bring your own extension lead with you. One ideally with more than 1 socket on it, so that others may also use it.
Note to attendees from outside the UK: Remember, the UK has a different plug system from the rest of Europe (see photo!), so you will also need an EU to UK plug adapter.
Thank you!